Functional eco-friendly artificial grass
JMCGR's Functional eco-friendly artificial grass can be recycled. And It excels at removing contaminants, germs and fungi, which are the biggest problems of the file-based flooring. In addition, the absorption and removal of various heavy metals, as well as the purificaition of water quality.
Recyclable artificial turf
Artificial turf had to be discarded after being used with SBR latex coating and PU coating that interferes with recycling. However, JMCGR funtional eco-friendly artificial turf can be recycled, because it dose not have any coating.
excellent water permeability
JMCGR functional eco-friendly artificial grass is excellent for draining even when it rains a lot.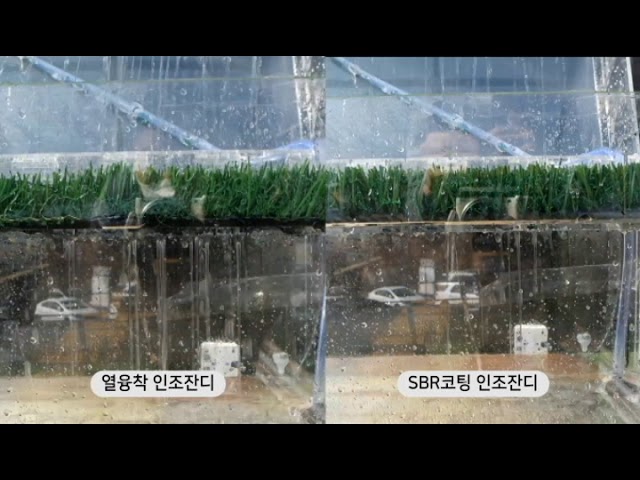 Easy to construct/install
Light weight and flexible movement make it easy to construct and install in various environments.
Preventing loss of infill
In the existing SBR, fine particles such as silica were lost through the drain hole. Our functional thermal-bonding artificial turf overcomes these shortcomings and prevents the loss of infill in advance and extends the maintenance period.
add functionality to artificial turf
After 24 hours of incubation of E. coli and Staphylococcus aureus in artificial turf products, We obtained the results of "97,4%" and "99.9%" Self-Sterilizing, respectively. Also, after incubating artificial grass with mold for 4 weeks, the sample was not contaminated with mold.
SPORTS

Pile material

PE


Pile height

20 / 28 / 35 / 55mm

Pile structure

mono / double / high density

Backing

Thermal fusion backing

Purpose

stadium, play ground
LANDSCAPING

Pile material




PE+ PP

Pile height




20 / 28 / 35mm

Pile structure




double

Backing




Thermal fusion backing




Purpose




interior, garden